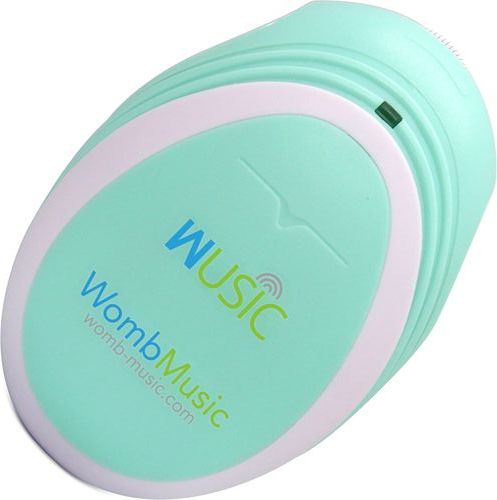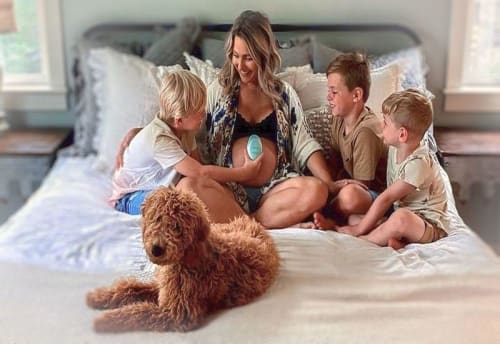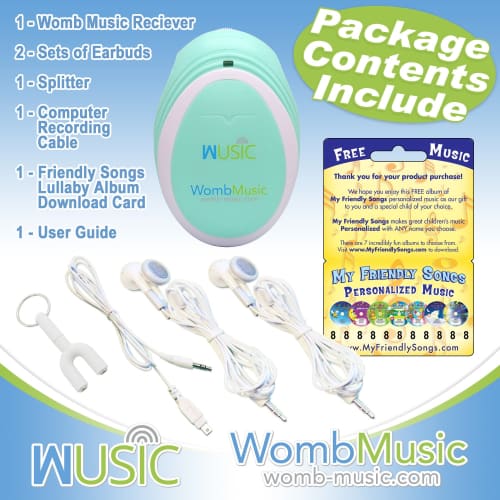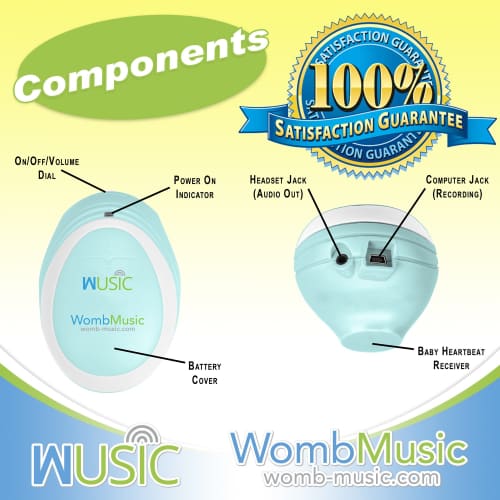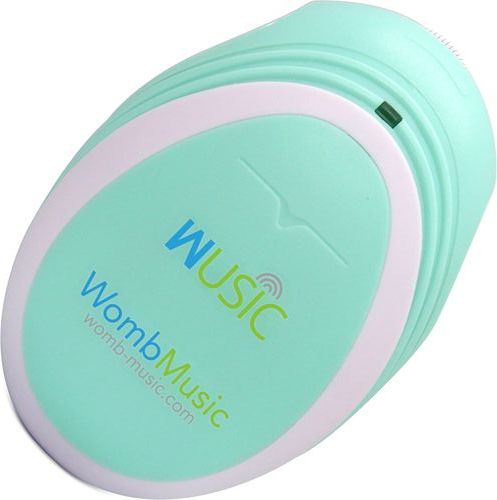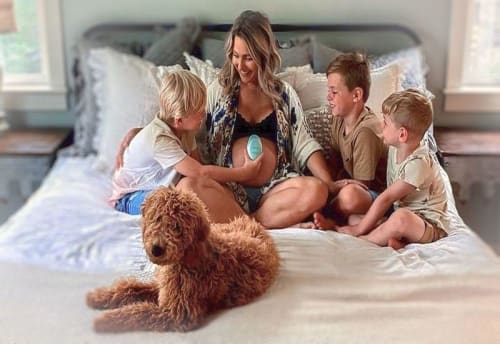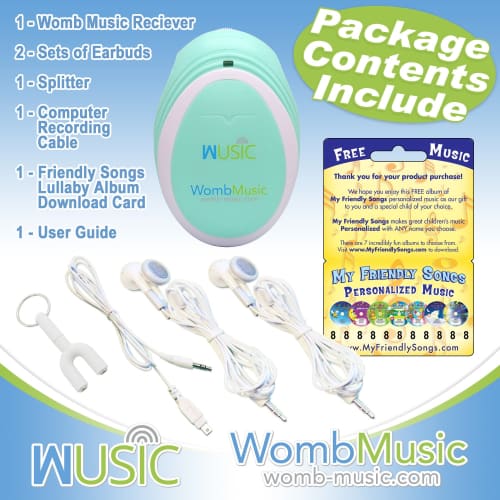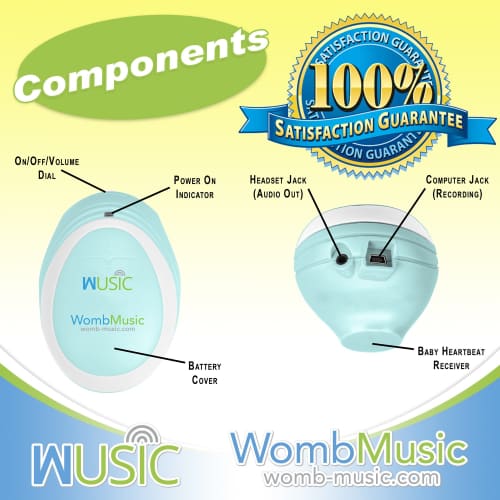 WombMusic Baby Heartbeat Monitor
$ 39.95
Compare at $ 55.00
You Save:

$ 15.05 USD

(27.36%)
$39.95 Sale Price - a $15 Savings
Become a VIP for a discount on your 1st order
Free 30 Day Return / Lifetime Warranty *

Ships in 1-2 Business Days - Guaranteed

This item ships from South Carolina USA

We Pay Standard Shipping (USA Only) on this item!
Customer Reviews
01/10/2023
Peace of mind
Love this tool! We first discovered it with our pregnancy 6 years ago, but our most recent purchase was for a newly pregnant friend. They were able to locate baby's heart beat at 7-8 weeks, and it brought them peace of mind until their first appointment. I've also recommend making it part of your nightly routine, especially as the baby grows. Being familiar with baby's heartbeat and routine can help you spot trouble sooner! I can't recommend this enough :)
Taylor S.

United States
12/28/2022
Love this
Second pregnancy, been trying weekly to hear baby and today at exactly 10 weeks I got to hear my little baby so excited
A

United States
10/27/2022
LIFESAVER!!!!!!!!!!!
I am a woman who struggles with pretty moderate anxiety and I am a first time mom. There were a few times I became anxious when things seemed different in my pregnancy. I found myself going to the E.R, pregnancy centers, and immediate appointments with my OBGYN just to hear a heartbeat and make sure everything was okay. The WombMusic Heart Monitor have given me such a peace of mind that it is truly a life-saver. Being high-risk, stress is not something I needed to add to the list. I would HIGHLY recommend to get this. I started using it at a little over 4 weeks. And here's the bonus - not only can you heart you baby's heart beat, you can also hear the baby move in your stomach. Purchase, purchase, purchase!
Jade

United States
02/24/2022
awesome product
This is an awesome product! I received it really quick and it is just what I needed! Received it at 11 weeks and heard the heart beat within 2 minutes of searching that same day and it should only get easier to find from here! It's great for a little piece of mind between dr appointments, especially for someone who has experienced miscarriages. Don't worry if you don't find your baby's heart beat right off. Sometimes it takes longer to locate depending on when you last ate and which way the baby is facing. Just try again after a few hours.
Lacey

Philippines
02/23/2022
nice
It works I can hear my baby
Regina

Philippines
02/21/2022
Works great
Very easy to use- works great. Just remember to lower the volume before you lift from her belly.
RBloomer21

Philippines
02/18/2022
good
Works good! You need a gel though.
02/17/2022
fun to use
We love listening to our baby's heart beat! You can even hear little movements. Be careful not to have the volume too loud when sliding the monitor around your belly- this causes a loud noise if the volume is up and will hurt your ears. So I would turn the volume down when sliding to a new position then turn the volume up when I could start to hear the heart beat. Fun product for the weeks before feeling your baby's first movements and kicks!
Charlie K.

Philippines
02/16/2022
extremely satisfied
I bought this Doppler, mostly for a peace of mind! I'm 24 weeks pregnant and was told by my doctor that I have an anterior placenta, which makes feeling my baby's kicks difficult. I was constantly anxious about my baby boys well being, and hearing his heart beat was the best way to make sure everything was going just fine. This Doppler was exactly what I expected, the product description shown is exactly what you'll get. I especially love that it comes with a headphone splitter, making it easy for multiple people to listen. This Doppler doesn't come with a lubricant, so I just used aloe that I had around the house and it worked perfectly fine. Needless to say, my mind is at peace.
Marcia M.

Philippines
02/15/2022
love it!
Great device love love love it
ac7954

Philippines
02/14/2022
peace of mind
I bought my heartbeat monitor on Wednesday and received it on Thursday (I paid a couple bucks extra.) Needless to say the shipping speed was incredible. The product itself is amazing. My boyfriend and I didn't really expect to find our baby's heartbeat at 10 weeks but we did after only a couple of minutes!! It took some patience and I recommend you get to know the difference between the sound of your heart/arteries and the baby's heartbeat. I could see how many can get confused by this. We used Vaseline since we didn't really have anything else and it worked just perfectly with a minimal amount. I am very happy with this product. It gives me peace of mind in between appointments with my OB.
Mika

Philippines
02/11/2022
worked great for me
This hear monitor is great! it's clear and the static is low unlike others I have tried. You can only listen via headphones and I wish that wasn't the case. It would be so great if the heartbeat sound came through without the headphones so others can hear. It does, however, come with a splitter which is nice so two people can hear at the same time.
Mikana

Philippines
02/09/2022
recommended
I know this works because I can hear my own heartbeat... I'm very early, only 8 weeks. I can't hear the baby's heartbeat quite yet but I know I'm just being antsy about it. Each week I will keep trying. Definitely need some sort of lubricant, I just used coconut oil so I didn't have to buy anything extra. The clarity is unreal! I can't wait until baby is big enough so I can hear their heartbeat. Highly recommend - I know it will come in handy in between doctors appointments.
ac4571

Philippines
02/08/2022
Highly recommended!
There is a learning curve to using this, so read the manual and look up some tutorials on the internet. What I've learned: press harder than you'd think - until you can't hear any static at all, and use plenty of gel (we used aloe vera sunburn gel and it works great). Make sure you can pick up your heartbeat clearly first without static and work slowly until you find baby's heartbeat. We were able to hear our baby's heartbeat at 11 weeks, 2 days. Getting to hear baby's heartbeat is worth 5 stars to me! I have been recommending this product to friends!
Jake M.

Philippines
02/07/2022
Works perfectly
Works perfectly. Couldn't hear until 10 weeks and what helped was my wife having a full bladder. So if you have trouble finding the heartbeat in the beginning be sure to have a full bladder.
Andrew D.

Philippines
02/04/2022
Highly recommended!
This monitor is great! I bought 2, one for my partner and one for her sister who is also pregnant. It works great and it's so exciting to hear our little guys heartbeat every night!! At first it was a bit hard for us to find his heartbeat but after just moving the monitor around slow.. we found it and haven't stopped using the monitor!! :) Would recommend this for any expecting mom!!
Dana

Philippines
02/03/2022
love it!
Absolutely love it! I can clearly tell the difference between my heartbeat and the baby's heartbeat. A little staticky, but it works just fine! We purchased this at 15 weeks, and we listen everyday!
ac1896

Philippines
02/02/2022
Works great
Works perfect, suggest getting a external speaker, works better for two to listen to.
ac0987

Philippines
02/01/2022
Works great
I was able to hear my baby's heartbeat at 13 weeks.