Friendly Songs Sound Module - 2 Hour Voice Box for Stuffed Animals
$ 27.65
You Save:

$ 7.35 USD

(21.0%)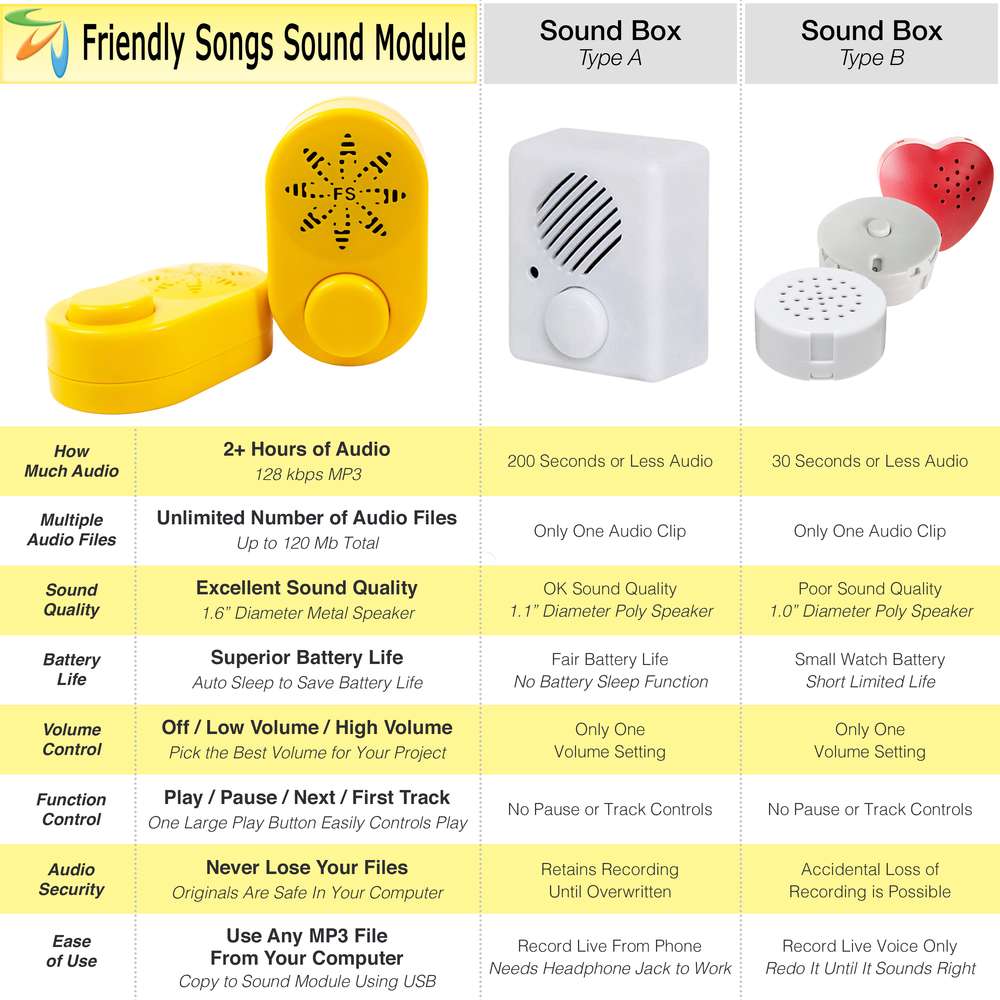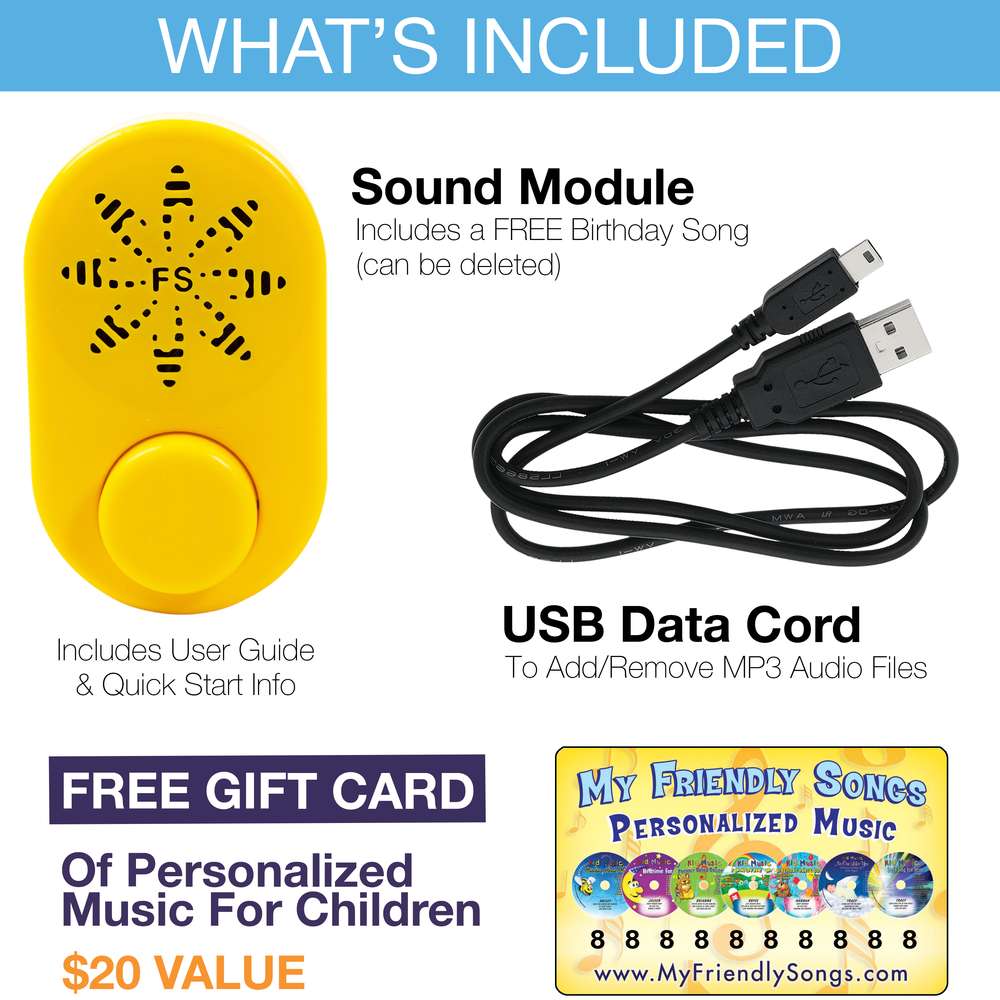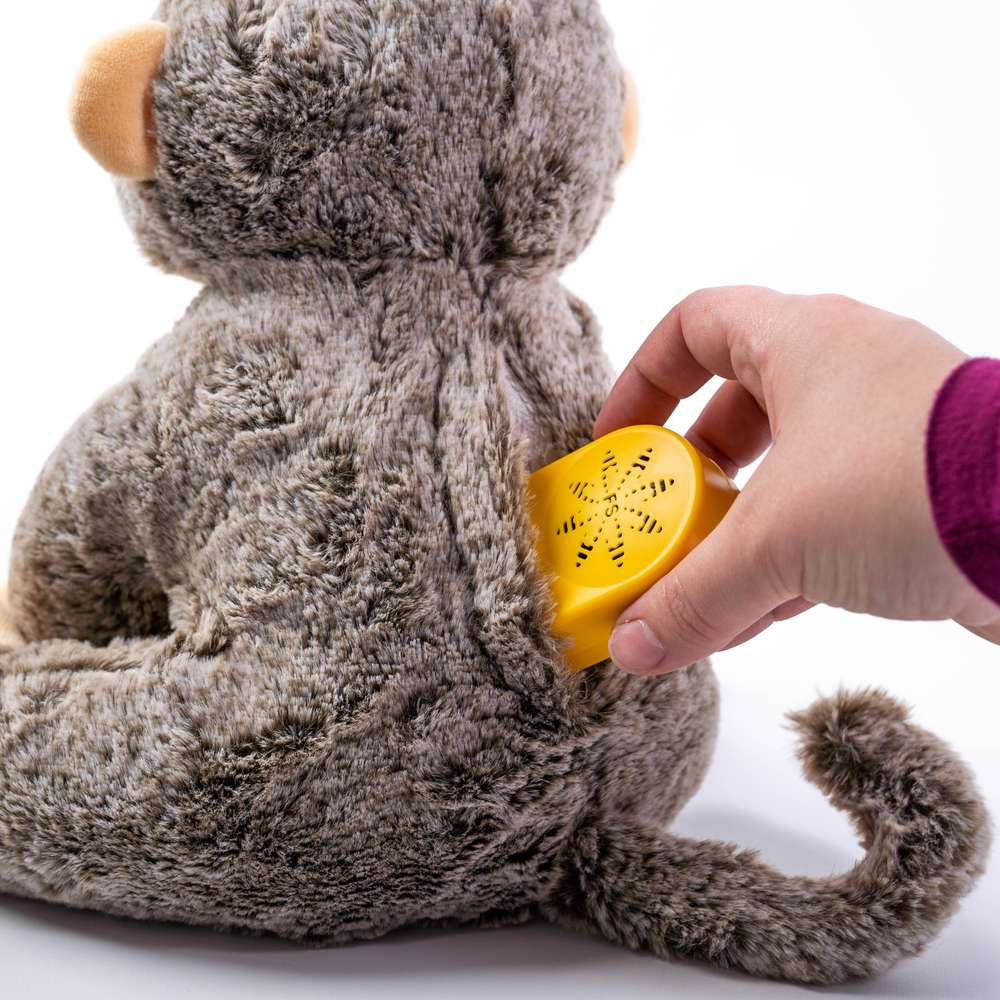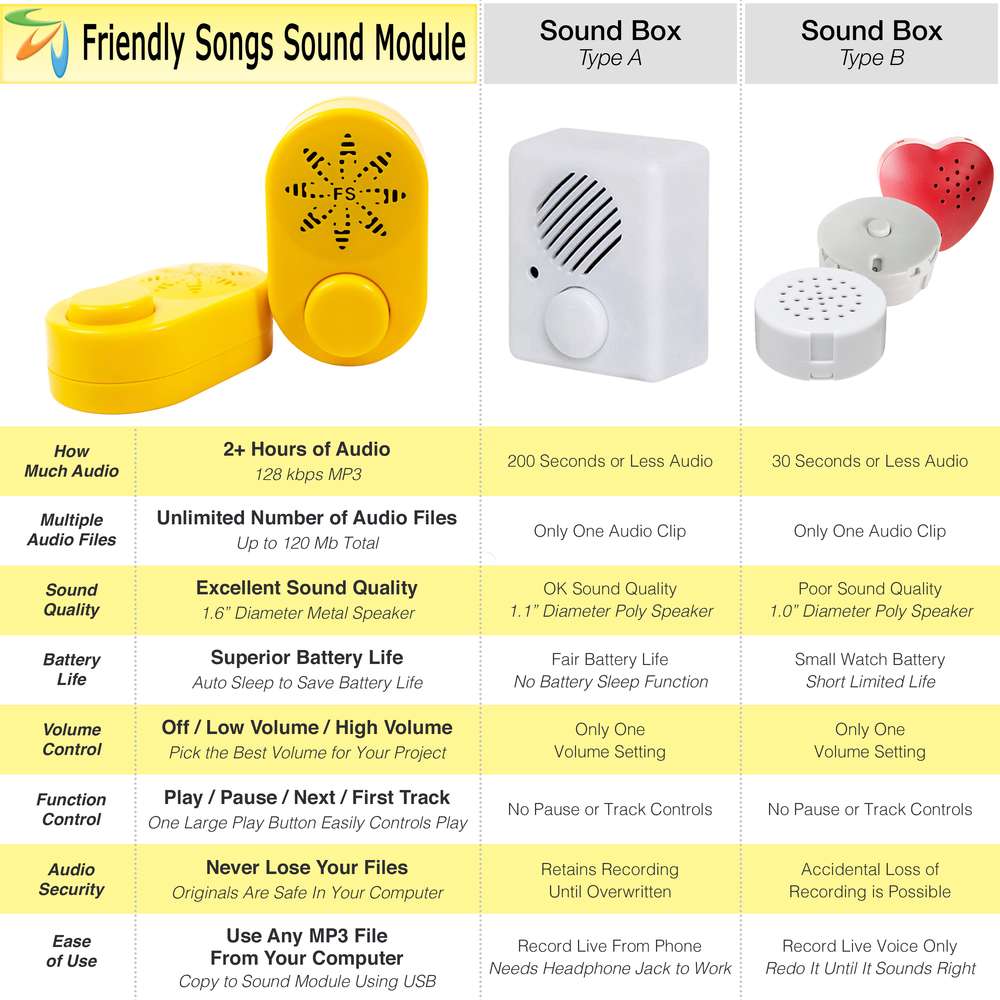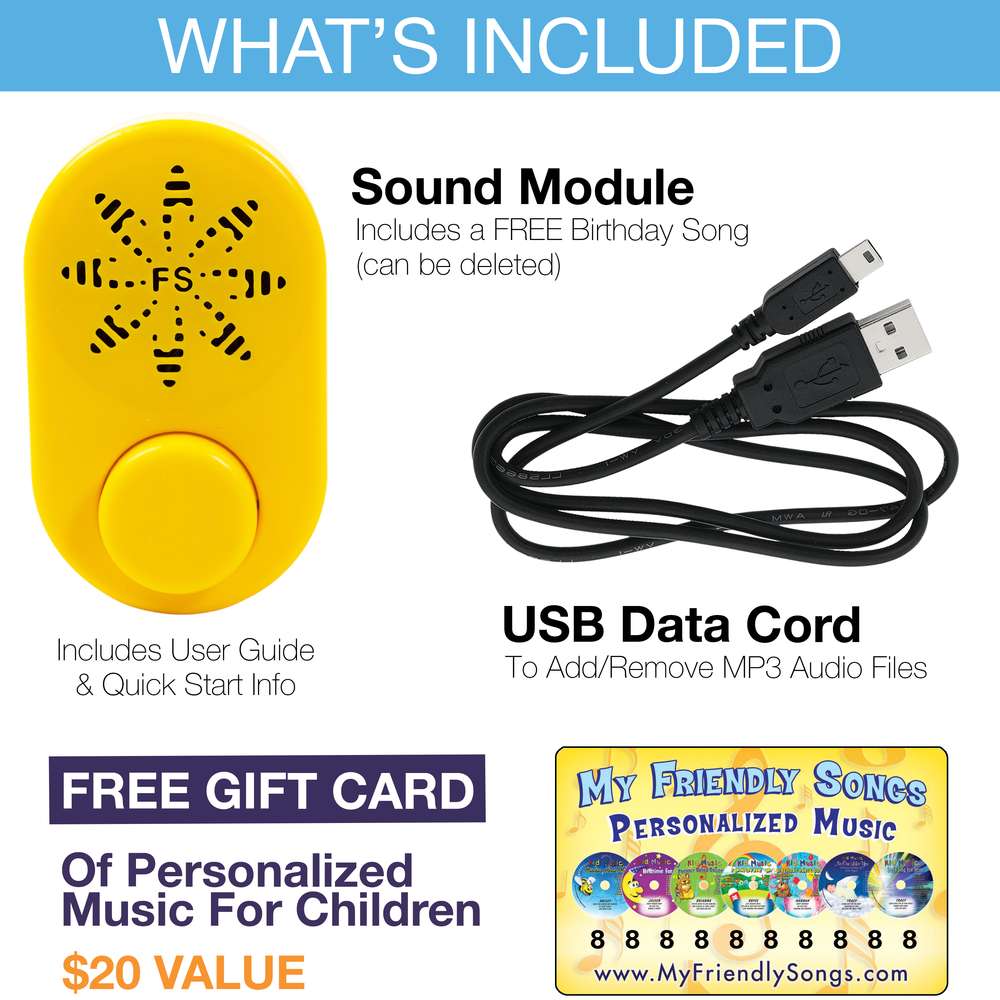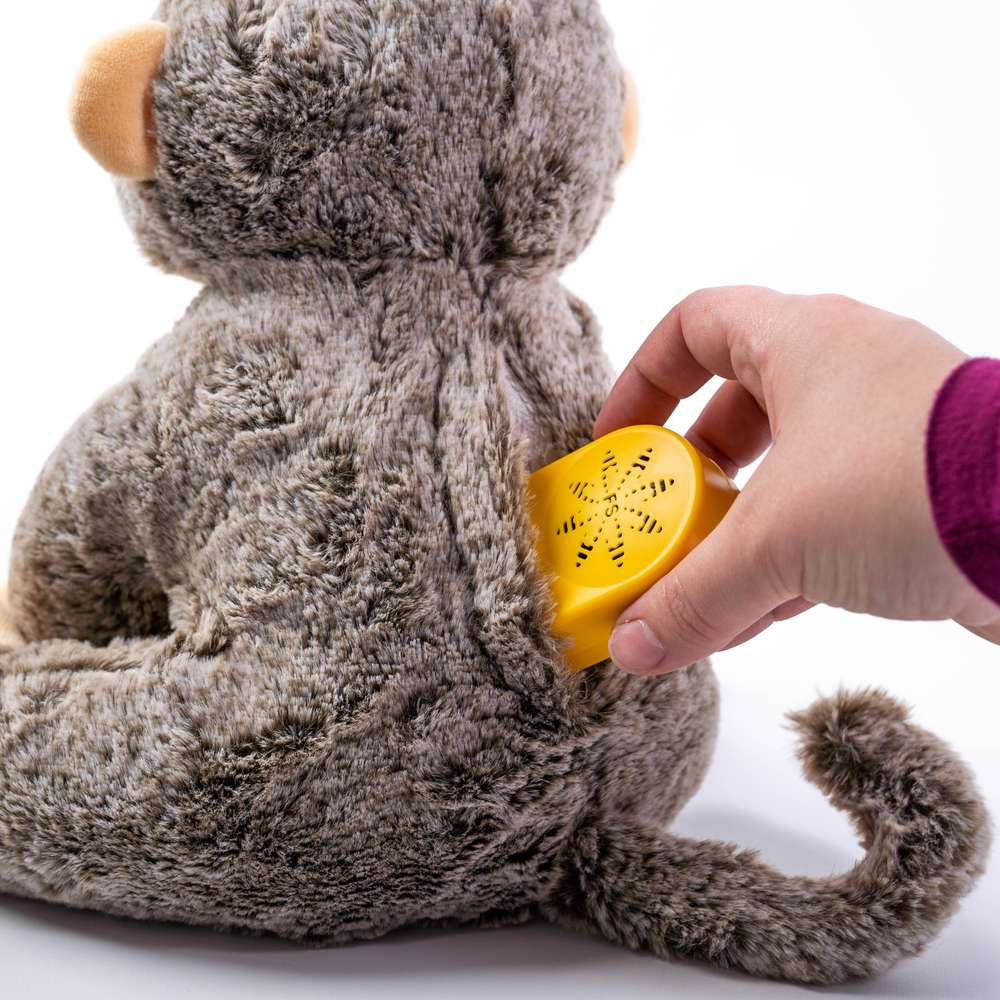 Friendly Songs Sound Module - 2 Hour Voice Box for Stuffed Animals
$ 27.65
Compare at $ 35.00
You Save:

$ 7.35 USD

(21.0%)
Become a VIP for a discount on your 1st order

Easy 30 Day Return If Not Satisfied

Ships in 1-2 Business Days - Guaranteed

This item ships from South Carolina USA
Customer Reviews
10/06/2023
This player is PURE GENIUS!
My mother-in-law (94) is in declining health in an extended care facility, unable to see, and with limited dexterity in her hands. A former musician, music is very important to her. We looked into several music players, and purchased one which was of good quality and functions, but there is no way to position it in her room where she could access it. Then we found this player and it's perfect! We're able to load it with about 25 - 30 pieces at a time; she can place it on her bed tray or hold it easily in her lap, and she is able to operate it to play (1 push), pause (1 push), and skip tracks (2 pushes). We've put a mixture of music and Biblical Psalms and passages on it, which she has found to be most comforting. The included manual was excellent -- very clear, and with sufficent technical guidance to get the user to have successful results, and Customer support has been awesome! They were able to answer any questions, and their response (email exchanges) was almost immediate and very clear. For the benefit of others, I'll share my experiences with using it in the event others may find it helpful. While the basic set-up and use are fairly straight-forward, it will be easier for someone who is somewhat familiar with a computer, mp3 files, and file copying via a USB cable. Those who are less familiar will have more of a challenge/learning curve, but depending on how it is going to be used, they may not need to become too technically involved. In any case, the Customer support is excellent, and less experienced users may find they get a free tutorial and enhance their technical skills and knowledge! In any case, it is NOT simply a voice/sound "recorder" as some have thought; it is more of a "player" which has to be loaded with files before using. For its size and price, the sound quality is EXCELLENT! The playback capabilities are ingenious -- especially for our needs: 1 button push = play, 1 push while playing = pause; push again to resume at same place (if pressed within 2 minutes); 2 pushes = skip to next track; 3 pushes = skip to previous track; 4 pushes = start at beginning. She is able to manage the play, pause and skip, and is able to enjoy nearly 2 hours of music and other spoken files -- Bible verses, poems, short stories, etc. It should be noted that some diligence is needed when preparing the files. The two volume levels (low, high) are somewhat of a trade-off. On the one hand, it would be nice to have an infinitely-adjustable volume level. However, given our situation, there are the possibilities that either the volume could be turned too low and she would think it's not working, or she might turn it too high and cause a disturbance with others in the room. The trade-off is that I can adjust the level of the mp3 files so that it is suitable without any need for volume adjustment, which eliminates the need for a volume control (less is better -- at least for us). Which brings me to an important point -- preparing the mp3 files -- two important considerations. It's important to: 1) set the volume level of the file, and 2) set the bit density of the file, which affects both the quality and file size. I noted that some reviews mentioned that it only held 5 songs -- this likely was due to the file size of the mp3 files. The greater the bit density of the file (for better sound quality), the larger the file is. Again, there is a trade-off. Though the sound quality is very good, this is not audiophile equipment. For voice recording the density need not be very high; for music -- depending somewhat on the type of music -- the quality can be low to medium and will come through satisfactorily. In order to tailor mp3 files (volume level, density) the User manual recommends Cloud Convert -- a free online sound editor which requires an account and online access. I suppose it may work to set volume levels, trim unwanted sections, and save at a suitable density (i.e. 128 kbps bit rate). However I'm more familiar with Audacity (also free) which also allows me to set volume levels, trim unwanted sections, and save at a suitable density offline with no account required. Using Audacity I'm able open audio files, remove any unwanted parts (such as applause at the end), set the volume level (select all, then select Effect / Amplify -- it takes a bit of experimenting to find the right level), and export as an mp3 file at whatever bit rate I want. Exporting at 128 kbps (K = 1,000, bps = bits per second) will require about 900 K bits of storage per 1 minute of audio. One other use of Audacity is the ability to record things from the internet -- like speeches, portions of audio Bibles, etc. and save them as mp3 files. Overall we are EXTREMELY PLEASED with the quality and capabilites of this sound module, and are very grateful for the joy it has brought to our family member. I will be purchasing at least one more, and I'm looking forward to loading it with some seasonal music and stories for the upcoming holidays.
C'est m.

Philippines
08/09/2023
Easy way to personalize any stuffed animal or craft!
My daughter and I found this when searching for a custom gift idea for her cheer coach. This sound module was so easy to use - my 8 year old daughter was practically able to load the music herself! Great idea for a heartfelt gift
Melissa D.

Philippines
08/07/2023
Works Amazingly Well and is Crystal CLEAR
For my nieces second child, I had husband/father record himself singing, a few lullabies. It was amazingly clear when the lullabies replayed back. It holds probably an hour or more of music. I purchased a soft, stuffed sunshine, split the back, put it inside and made a Velcro opening. It is super simple to advance to the next song, or to the previous song or back to the beginning without removing it from its new "home" in the sunshine. I then put this on a mobile over the babies bed. So cute.
LaLa

Philippines
08/02/2023
Great way to create memories
I got this for my daughter for her bday. I was able to personalize songs for her to listen to with her name in them. She plays it all day and listens to the good night song before bed. It fits perfectly in her favorite teddy bear.
Tara

Philippines
07/26/2023
This thing is Great!
If you download the MP3 files at the recommended quality, you can fit a TON of sounds into this thing! 2 hours or more! Nothing else on the market comes anywhere close to that capacity in a push-to-play device.
E

Philippines
07/17/2023
Best personalized gift for loved ones!
There isn't much I don't dislike, I love how you have up to 2 hours of personalized sounds and music that you can add, and you can add to so many different projects!
Happy T.

Philippines
07/06/2023
Wonderful for Stuffed Animals
I wanted a music box that would last for longer than 15 minutes, since it takes a long time for my kids to fall asleep. Started a project with a stuffed animal I bought from a video game, and putting the music from that game in it. I chose my favorite songs and have about 45 minutes of music on there. It's perfect.
Nikki

Poland
06/08/2023
Excellent quality, easy to use!
Works perfectly with my PC, and the sound quality is excellent. I am a model maker, and I used the sound unit along with special lighting to create a complete experience. Didn't know if this device was going to work for me, but I was pleasantly surprised. An wonderful product.
Kc

Philippines
06/01/2023
Super easy to set up
Super easy to set up
Taylor

Philippines
05/29/2023
Perfect Gift!
This is the perfect gift for my daughter. I love how you can record hours of sounds, music, and recordings. My daughter was cherish this forever as I was able to transfer the sweet voice of my deceased granny onto the recording so that she will always be able to hear her voice. This means the world to us!
Kuniko

Philippines
04/05/2023
Perfect for what I needed
This little sound box was very easy to use. I did have to convert my Windows Media Player songs to Mp3. Once I did that, it worked great. I used it in a teddy bear I made for a friend who lost her father. I was able to put 5 songs on it and there was still room for more. I think the sound quality is excellent. The Hi setting was a bit loud, but the low setting was perfect. I will buy another later to use in another stuffed toy I am making.
03/06/2023
Great product!
I bought this (and a teddy bear to put it in) for my 1 year old granddaughter. There is a song that always calms her down and makes her smile - now all she has to do is hug the bear when she wants to hear it! Easy to upload music to it, sound quality is good!
Tiffany

Philippines
02/28/2023
Finally, a 2 hour personalized recording for kids!
I was very excited to find a sound module that I can record my voice on to give my grandkids that is longer than 30 seconds. I love reading a book to them that they can listen to over and over. I also bought the adorable stuffed animals they offer on their website. Personalizedfriendlysongs.com I had a bit of a struggle with the free downloads I got from the site but WOW, exceptional customer service! They are a small company in South Carolina and a real person answers the phone. No waiting! Definitely worth buying!
Steven R.

Philippines
02/17/2023
Excellent
This is hands down the best recorder like this I have found. Most of these recorders have a maximum of 30 seconds of recording time. This one is so much longer going up to 2 hours. I love crafting and I can think of so many different ideas for using this. I know the traditional way is in stuffed animals but I used mine in a memorial lantern. I combined some music with voice snippets of a family member that passed away. It was one of the coolest things I've ever made and the fact that it has such a long playtime made it ideal for this. This unit was a little more expensive than others but the value was so much greater
Realtor O.

Philippines
01/13/2023
A Blessing!
So happy with my purchase. Delivery was great. Customer service is absolutely OUTSTANDING. It was within minutes (less than 5) minor issue (my issue- not so Tech savy) but Ginger literally solved the problem in less than 5 min), that is Speed light customer service. Ginger, thank you so much for your courteous guidance, patience w/me, truly kind and so knowledgeable. Ginger I cannot begin to Thank you enough:) My mother absolutely loves her Bear. The Bear is soft and Beautiful. My mother has Advanced Dementia and this bear is perfect. My mother fell in love with her Bear right away, and when she heard my voice and her favorite song she started crying, I cried and the Home Attendant cried. Thank you so much for creating such a special product that has made such a positive impact during this difficult time. I highly recommend! I'm buying more next year as Christmas gifts!
Cynthia

Philippines
12/29/2022
Kind of surprised
This is easy (once I read the instructions) to add or remove audio files from. And works wonderful once the files are loaded onto it. Personalized gifts with heartfelt messages here we come
doug a.

Philippines
11/29/2022
Pleasantly surprised
At first, I thought maybe I'll go with one of those dog buttons to record messages. But those only have 30 seconds of recording time. This one is so much better. Just as expected. So many uses for kids, teachers, elderly. Nicely packaged. Might get another one.
11/29/2022
Pleasantly surprised
First I thought maybe I'll go with one of those dog buttons to record messages. But those only have 30 seconds of recording time. This one is so much better. Just as expected. So many uses for kids, teachers, elderly. Nicely packaged. Might get another one.
11/09/2022
Perfect Storm
I wanted to be able to play 2 hours of thunder for a project. I am NOT a computer person. I called the # on the box for help and the Customer Service was A++++!!! They were SUPER helpful! Very professional!! Highly recommend the product and seller!!!! I've got exactly what I need now.
NOLA g.

Philippines