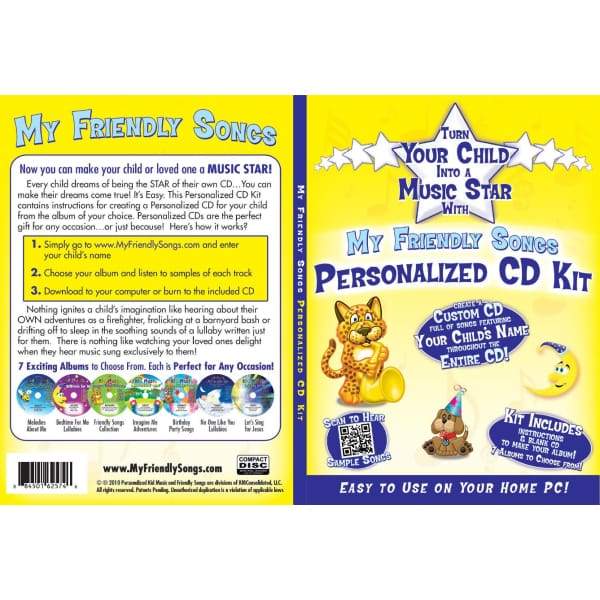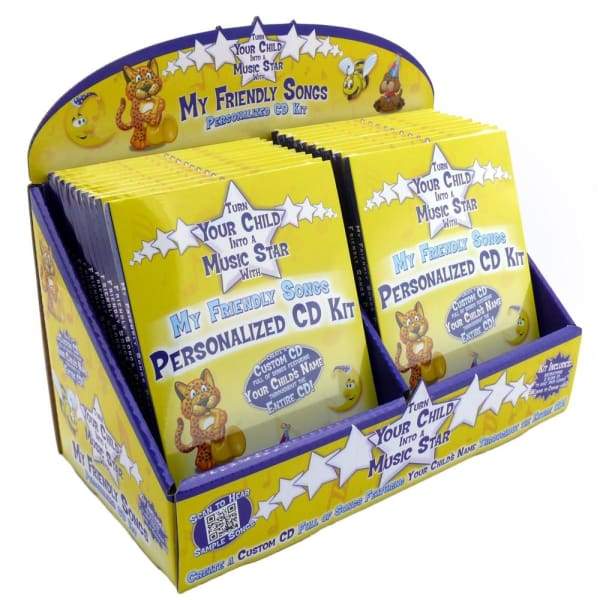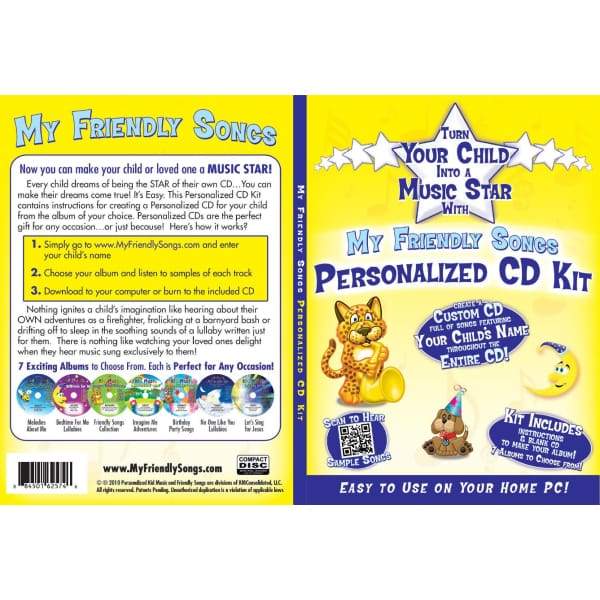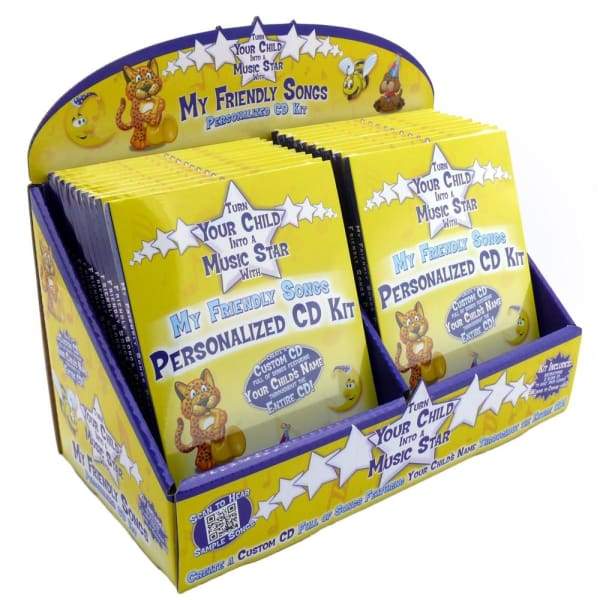 Friendly Songs CD Kit of Personalized Music
$ 14.95
Compare at $ 19.95
You Save:

$ 5.00 USD

(25.06%)
Become a VIP for a discount on your 1st order

Easy 30 Day Return If Not Satisfied

Ships in 1-2 Business Days - Guaranteed

This item ships from South Carolina USA
Customer Reviews
11/21/2022
Net gift
Does know I gifted to my son for his child
ac4756

Philippines
09/19/2022
cute idea
This is a cute idea, the kids like hearing their own name in the songs. I just wish there was more variety.
Griswold

Philippines
03/10/2021
Fun CD for kids
We purchased this for our daughters birthday and she loves hearing her name and the Imagine one that she Ickes out has lots of fun catchy songs. We also ordered as a gift for a friend and it's a fun unique gift that's something different for them and special with being able to hear their own names.
Valerie

Philippines
01/26/2021
Very Happy
Was very happy with the "No One Like You" Lullaby album. Love that my nephew can go off to sleep with these special songs! Great customer service too!
05/24/2019
Many downloads allowe....
I love the choice of cd. I just need to transfer files to my phone. There are many chances to download. They do have a limit.
11/21/2018
Love it! Order 2 and will be ordering more
Love it! Order 2 and will be ordering more. I can't think of a better product to make children feel secure in bed. Hearing there own name 50 times in a half hour. The sound quality is AMAZING! There is not a break or even a pause when the name is sang. It's very natural. I am super impressed! I did have an issue on burning the cd. Because, I didn't burn it. I just clicked, copied and pasted the songs to the cd. PLEASE, make sure you actually BURN the cd, otherwise it won't work in a cd player. Will still work on a laptop though. Plus the Customer Service is A+ (a hard trait to find these days)
11/20/2018
Perfect gift for my grand daughter.
This is a way cool item. My grand daughter turns 2 in September. This will be perfect for her. This personalized music CD is sure to be the hit of her party. She is very perceptive and will love the interaction of watching the whole thing happen in front of her eyes. I haven't seen anything like this before and I am very excited to hear the results.
11/19/2018
Wonderful tunes for my kiddos
I've gotten music for all of my three girls and my son. They loved hearing their names being sung on each track. It's great for bringing along in the car even on short trips to play their music for them.
11/16/2018
Creative Music!
Friendly Songs has created music my Grands have enjoyed since they were born. The lullaby will touch your heart in a place were words aren't enough. I give it as a gift to all my expectant mommy friends and family. The songs on all the other albums add incredible energy and fun to all the activities my grand children enjoy at "Camp GiGi!" We are making special memories that will live on in the hearts of our little ones forever....thank you Friendly Songs. One more thing... I've had to call on occasion for some help and their customer service is wonderful and they can do any custom name you ask for!!!!!
11/15/2018
It was so easy to find her name and preview it in the ...
My 2 year old loves this CD! It was so easy to find her name and preview it in the songs, pick the songs I wanted, and burn them to the included CD. Can't beat the price, either!
11/14/2018
You can Customize
Bought this for a baby shower gift. You can customize it by calling the seller and they will simply add a the name for you! Very user friendly.
11/13/2018
It was very neat and easy to create
This arrived when expected. It was very neat and easy to create. It didn't take long at all to get some very cool songs with my son's name in them!
11/12/2018
how happy I was with the look on Madisn's face
My grandaughter is only one but she smiled the first time she her her name being sung to her I can't describe how happy I was with the look on Madisn's face. Thank you.
11/09/2018
Tradition continues
My children were given "tapes" of similar songs by their grandparents. They are parents themselfs now and remember their songs fondly. I was so happy with the ones I bought for my 3 grandchildren and their reactions.
11/08/2018
Love the personalization and songs
This is a really terrific cd. We bought it for our granddaughter. I was concerned because it didn't give the option to enter her name when we placed the order however once it arrived they had easy instructions for adding the name. Our granddaughter's name fits in the song nicely. You are also given options to pick the songs and order of songs. This present has been our granddaughter's favorite gift ever. We will be ordering more of these CDs for other children. It is just a great gift with terrific songs.
11/07/2018
Really love these songs
Really love these songs, very cute & easy to sing along to. My daughter still remembers all the words to her cd & sings along with her younger brother now. Very easy to set up, download from home. Great gift idea :) Enjoy!
11/06/2018
Great gift!
The mom was thrilled that her baby's name was pronounced correctly. She enjoyed doing it with him and hopes that as he gets older (he is 1 yr. old) he will be singing along.
11/05/2018
Great gift for a child,Excellent Customer Service
I got my baby's personalised CD and believe me is just perfect.Hearing your baby's name in every song several times is wonderful.Eventhough the name of my newborn was very difficult to be pronounced, through the Customer assistance collaborating with me, they got it right.When I listened to the songs at first I got very emotional, sincerely it was just perfect.I would recommend everyone to purchase this product cause I'm sure you'll be as satisfied as me in the end.
11/01/2018
Unique gift
My godson's two-year-old daughter is very musical, and likes to sing and dance. But hearing her name on the CD sent her over the top! She loves this CD, and asks to hear it all the time. The songs are charming and suitable for young voices. If you are looking for a unique gift, this is it.